Growing up in a hard working, middle class Catholic family here in Wisconsin, Patrick Testin learned early on that the key to success is hard work and compassion for others. That's the same approach he took to his campaign and that's the kind of leadership he provides in the State Senate.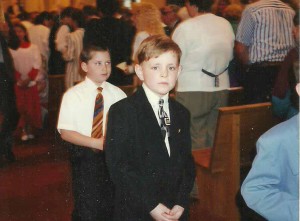 A Wisconsin Work Ethic
Born in Madison and raised in Marinette, Patrick found his first job before he could drive, busing tables at a family restaurant for minimum wage. He kept that job through high school, earning more responsibilities and experience.
Following graduation, Patrick made Stevens Point home, when he enrolled at UWSP. Despite the busy schedule he kept while on campus, Patrick would spend each of his summer, winter, and spring breaks back in Marinette working countless hours around the clock to help fund his education. Following family tradition, he took a job at Silvan Industries, a carbon steel and industrial grade stainless steel pressure vessel fabricator, the same factory his grandfather retired from. There he was employed as a tank cleaner working overnight on the weekend shift chipping slag off of welds and cleaning tank interiors – by no means a glamorous job – and volunteer coaching for the Crivitz football team during the week. He also worked for Aacer Flooring LLC, a hardwood flooring manufacturer, stacking lumber and prepping it for the kilns, the first stage in the finishing process. Patrick even spent a summer working two jobs – groundskeeper and maintenance man for the School District of Marinette by day and package handler loading trucks for UPS by night.
When back at school, Patrick found time during his busy course load to lead and participate in a number of student organizations, including the Student Government Association, a role that earned him awards for leadership. He graduated with a Bachelor of Science in Political Science.
Community Leader
Patrick is currently a member of the Stevens Point Elks Lodge 641 and Ignite Young Professionals, an affiliate network of the Portage County Business Council. He has held management and leadership roles in politics for national and local office, including his own run for the 71st State Assembly District and holding the position of Chairman of the Republican Party of Portage County from 2013-2016.
Business Advocate
Meanwhile, Patrick has built a successful career in sales and understands the overwhelming demands on businesses of all sizes. He maintains a part-time role as a sales representative for a local wine distributor – but don't hold that against him. He still enjoys a cold beer from one of the many microbreweries in the 24th District. As a sales professional, Patrick works closely with small business owners all too familiar with complicated bureaucracy and regulations.
Hardworking Family Man
In April 2015, Patrick got engaged to the love of his life, Hannah. The two met in 2011 while working on state senate campaigns and have been together ever since. Hannah works as the Director of Advancement for Pacelli Catholic Schools in Stevens Point and owns a freelance writing side business, Wife + Hound Creative. They married in August 2017 surrounded by family and friends.
Patrick and Hannah adopted a rescue puppy, Reilly, from an animal shelter, and are grateful for the joy her kisses bring to their lives. They enjoy taking her to the dog park and on walks, especially on the Green Circle Trail running through Portage County. In 2017, Patrick and Hannah trained Reilly to be a therapy dog and are working with a national organization, Love on a Leash, to become certified therapy teams, and take Reilly on the road to various community organizations like the university, schools, and nursing homes to interact with people from all walks of life. Patrick, Hannah, and Reilly also enjoy summer life at the Testin family cottage.
Patrick takes pride in his strength training, and is a member of Adventure 212 Fitness where he can be seen almost every day of the week. He is an avid hunter, history buff, and big Wisconsin Badger football fan. An avowed news junkie, Patrick enjoys reading local and national news, listening to talk radio, and even catching legislative floor debates and committee hearings on Wisconsin Eye, when he's not participating in them himself, always wanting to be well informed of current issues facing our state and nation.
Your Senator
In November 2016, Patrick was elected to represent the 24th Senate District earning over 52% of the vote. Patrick serves on several committees including Workforce Development, Military Affairs, and Senior Issues (chair); Judiciary and Public Safety (vice chair); Sporting Heritage, Mining, and Forestry (vice chair); Joint Survey Committee on Retirement Systems (co-chair); Agriculture, Small Business and Tourism; and Economic Development, Commerce, and Local Government. He maintains a focus on workforce development issues, especially through his "On the Job" series where he spends a day working at various local businesses to highlight the great employers in the 24th, the job opportunities that are available, and to showcase that there is dignity in work.
In just his first year in office, 26 bills or resolutions that Patrick authored passed or were enrolled. Gaining the support and confidence of his colleagues, Patrick was quick to rise to the challenge of taking on a leadership role when he was elected to serve as Caucus Vice Chair in January 2018.
Patrick understands that in order to keep Wisconsin moving forward we need to make sure we keep taxes low and ensure government doesn't spend more than it takes in. As your Senator, Patrick works hard to listen to all the people of the 24th and goes to bat for you in Madison, never running away from a challenge or tough vote. He is a Senator you can count on to put the needs of the district first and continue to make sure Wisconsin is the best place to live, work, and raise a family.
Forward. Together.