Wisconsin—in 2022, there is a Better Way Forward!
Our communities, families, and children cannot afford four more years of the Evers/Barnes Administration's failed policies.
It's time for Wisconsin Republicans to go on offense, and fight to bring our conservative principles back to Madison.
I hope you'll join the fight!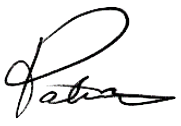 Meet Patrick
Growing up in a middle-class family in small-town Wisconsin, Patrick learned early on the value of hard work, honesty, and compassion. Those values have shaped him into a State Senator known for getting results, building consensus, and fighting for Wisconsinites.
Read More
Paid for by Testin For Senate