We're moving Wisconsin Forward, together!
In Madison, I fight for the people of the 24th District everyday. Standing up to overreach from the administration, taking on agencies to get them to actually serve the people of Wisconsin, and fighting to further cut taxes are all things we have accomplished together.
The fight isn't over, though, and there is much more that we can be getting done for all Wisconsinites. I hope you'll join us!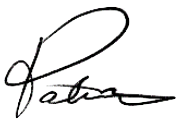 Meet Patrick
Growing up in a middle-class family in small-town Wisconsin, Patrick learned early on the value of hard work, honesty, and compassion. Those values have shaped him into a State Senator known for getting results, building consensus, and fighting for Wisconsinites.
Read More
Paid for by Testin For Senate